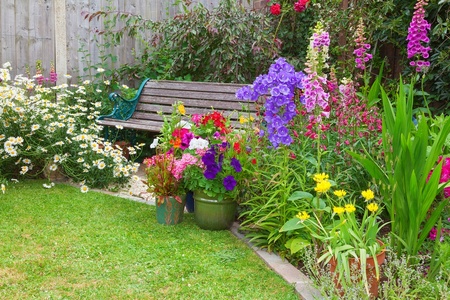 Summer's almost here! The gardening season has started and beautiful flowers are in bloom.. This season, there's still plenty to do in the garden. With flowers in full bloom and crops ripening in the vegetable plot, June's a beautiful garden month. Keep your garden looking its best with our top 15 garden jobs for June.
15 June's gardening tips
Sow basil seeds for a supply of fresh leaves all summer. The seeds germinate very quickly in warm conditions, so don't sow them too densely and thin out once they emerge.

Sow lettuce, radishes, carrots and beetroot in the vegetable garden. Now's also an excellent time to sow runner and French beans directly outdoors.

Plant out courgette, tomato, pepper and sweetcorn seedlings. If you started off runner and French beans indoors last month, plant them out as well. Plant tomato seedlings deep so that the first set of leaves is just above ground level. This will encourage the plant to produce more roots and give you bigger, more vigorous plants.

Pinch out side-shoots on cordon tomatoes to concentrate the plant's energy on producing plentiful trusses of fruit. There's no need to pinch out side-shoots on bush tomatoes.

Feed pot-grown tomatoes, peppers and courgettes fortnightly with a high potash liquid feed to promote the development of flowers and fruit.

Now that the leaves of daffodils, tulips and other spring bulbs are fading, cut them back to ground level to keep the beds looking tidy.

The weeds will be growing just as fast as all your other plants, so weed regularly to stop them from taking over. On dry days, use a Dutch hoe to cut down annual weeds like chickweed and hairy bittercress and leave them on the soil to dry.

Plant up hanging baskets with summer bedding like petunias, calibrachoa and geraniums to give you months of colour. Fuchsias, begonias and busy lizzies are fabulous for pots and hanging baskets in shady spots. To get the best out of your baskets try a mix of the above.

First early potatoes should be ready to harvest once the flowers have opened, but dig up one or two first to check whether they are big enough.

Strawberries will be starting to ripen now, so cover the plants with nets to stop birds from stealing the delicious berries.

Prune spring-flowering shrubs like weigela and forsythia once flowering has finished, cutting back the flowered shoots to vigorous side shoots and taking out one in every four old stems at ground level.

Check evergreen hedges for nesting birds before trimming them, and take care not to disturb nesting birds.

Deadhead roses and pick sweetpeas regularly to keep them flowering for a long period over summer.

Make the most effective use of your water by watering the garden in the morning or evening when it's cooler.

Mow the lawn once a week. In hot, dry spells, raise the mower blades to a higher setting to not stress the grass. Try a simple water on feed for a greener lawn.
If you need ideas for your garden, visit our centre! We have everything you need to get your garden in shape for the summer.