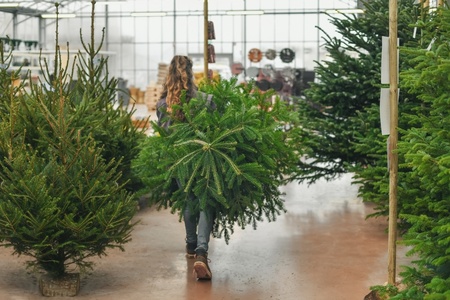 When choosing a British grown Christmas tree, you will be supporting the local economy and growers, reducing transportation and ensuring your tree is disease-free and of good quality. That's not to say imported trees aren't excellent quality, but British trees will have gone through a lot less stress making it to your home to be decorated. Christmas tree farming is expanding in the UK, and most are also regulated, which ensures magnificent trees have been grown sustainably.
Choosing a British grown Christmas tree benefits
There is something exceptional about a real Christmas tree, from the look and fragrance to the traditional nature and the decorations with lights. Pine and fir trees absorb carbon dioxide and release oxygen back out into the environment. A real Christmas tree is much better for the environment than an artificial tree. It is also great fun choosing your Christmas tree and looking at all of the various sizes and colours available.
What type when choosing a British grown Christmas tree
With many different options to choose from, you might be wondering which one is best. They are all lovely! Each has various benefits and look different. These are some you will find to choose from:
Nordmann Fir - the most well known and popular of all Christmas trees in the UK. Known for being able to hold its dark green needles well on solid branches.
Fraser Fir - these have a lovely fragrance, filling the home with the scent of Christmas. Dark green needles are slightly silvery underneath that hold on well.
Norway Spruce - a traditional Christmas tree with dark green needles and a wonderfully festive scent. Keep it well watered to hold onto those needles.
Blue Spruce - with blueish coloured needles on good branches, holds up well with more prominent decorations adorning it. It needs watering well and can be an excellent choice for smaller homes.
Know how to care for it when choosing a British grown Christmas tree
When you get your new Christmas tree home, cut about one inch off the trunk and put it straight into a bucket of water. Cutting off the sealed end of the trunk will allow it to take up water much more effortless. You could also score around the base where the trunk will be underwater. Ideally, keep Christmas trees away from heat sources and regularly maintain the water topped up. Standing it in a Christmas tree stand will ensure it stays upright and looking its best for the whole festive period for you to enjoy.
Choose your British grown tree in store from our range.