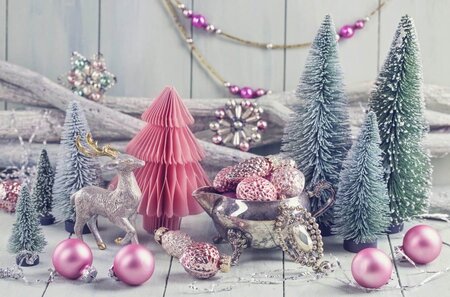 It's time to get ready for the festive season: check out the Christmas trends and colours for 2021. If you want to be on-trend this year, we have the lowdown on what to expect on the shelves and in peoples homes this Christmas. Make sure you've got everything planned and looking gorgeous so you can relax over the festive period and enjoy taking some time to be with family and friends, enjoy good food and all the best decorations.
Colours

Traditions
Festivities

Fruit and veg

Indoor plants
1. Colours on-trend this Christmas...
Each year festive styles and colours are published in magazines based on the coming trends for the Christmas period and 2021 is no exception when it comes to a change of colour. There will always be the classic colours of red, white, gold and green but if you want a shakeup, look out for pastel and more muted colours this year. Nature has been at the core of many activities over the past couple of years, so expect that to come indoors. Pale greens, calming pinks, whites and caramel colours will be everywhere, but if you want to jazz things up, there will be plenty of colour-popping accessories as well.
2. Now the festive season has started, it's all about the old
Memories, times gone by and classic Christmas colours will always be in fashion. Think Poinsettia's and paperchains, mulled wine, homegrown Christmas vegetables and plenty of games. The traditional Christmas is timeless and always on-trend.
3. Festivities to suit you
Whatever your style, theme or budget there's a Christmas to suit you! Embrace the full-on Christmas glitz and glamour or the try the new pastel shades currently on trend.
4. Fruit and veg decorations
If you feel like a change from the traditional Christmas tree baubles, look out for some funky fruit and vegetables. You'll be able to find many fun, glittery and beautiful decorations for your tree in all shapes and sizes, including fruit and veg! Perhaps try a tropical theme with avocados, pineapples, lemons and oranges glistening under the fairy lights. Have some fun and celebrate nature!
5. Time to get your indoor plants sorted
It's not just about the Christmas tree, but also indoor plants such as Poinsettia, Kalanchoe and Christmas Cactus! Each will bring the magic of Christmas to your home.
We have a selected range of decorations in-store and ho-ho-hope to see you at Lakeside soon!