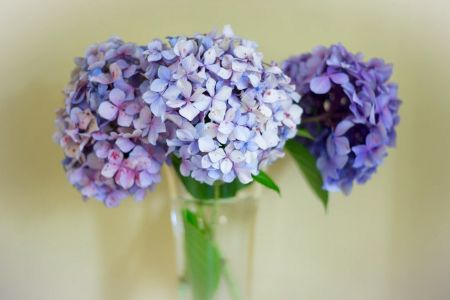 The much-loved Hydrangea for the garden and home comes into its own at this time of year. Many will have been flowering for months at this point, and many will also just be turning into those beautiful late summer toned down flower heads. They look both fantastic in the garden and the home placed in a vase. Get the best from your Hydrangeas with our ideas below.
Hydrangeas for the garden and home all year
Make the most of your Hydrangeas and snip some of the colourful blooms for the vase. Whether the flowers are blue, pink, white or green a single stem in a long thin vase can look exquisite. If you have a lot of Hydrangeas, why not snip a whole bunch and put on a show-stopping display. When Autumn comes around, and the flower heads are turning to the well known brown tones with translucent petals, those can also be cut for the home.
Leave outside Hydrangeas for the garden and home
If you don't want to cut them for the home vase, the flower heads give stunning structure in the colder months of the year and can be a home for insects and other wildlife at a time when there is little else available. Leaving Hydrangea heads on can also be really good for the plants overall health, and there is no need to prune them until the following year when you have a tidy up.
How to display Hydrangeas for the garden and home
There are lots of ways to show off your gorgeous Hydrangea blooms when you have cut some stems for the home. Remove the foliage and put them into a clear vase with fresh water for a classic coffee table look or why not try them the other way up and dry them hanging upside down tied with string. Why not try a fun project and attach the Hydrangea heads and to some wire to make a pretty hanging wreath for your front door. The petals will fade and look great for a long time.
Keep cut Hydrangeas for the garden and home blooming a long time
When your cut flowers start to wilt, there are ways to promote a revival and one of those ways is to put the whole Hydrangea in some water for about 30 to 45 minutes. The entire bloom needs to be under the water. When you remove the cut flower and stem, just recut the stem at the base and dip into a mug of boiling water before placing back into the vase with some clean, fresh water. You will be surprised how quickly the Hydrangea perks up!