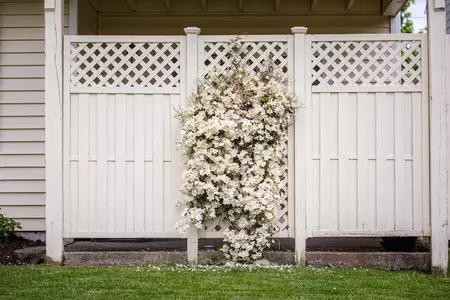 Looking for landscaping ideas that offer privacy in your garden? If so, Lakeside's got you covered with some great ideas. To ensure your garden is a haven of peace and privacy there are many options to consider. We've picked some ideas that can work well in most gardens, including some environmentally friendly ideas that will also encourage biodiversity.
Living fence
Bird-friendly trees
Fence panels
Shrubs and perennials
Container bamboo
1. Living fence
Using hedging and shrubs to create a boundary or secluded area will also help local wildlife. Planting in a row and offset will create a 'fence' that will also become home to birds and insects. Colours, textures, flowers and berries on many shrubs will also bring interest to your garden. Native hedging is ideal as it will establish well and thrive long into the future.
2. Bird-friendly trees
There are so many trees to choose from that can be planted in your garden for better privacy, but why not start by looking at those particularly good for garden birds? Trees that have berries, such as the Rowan Tree, are ideal, and a mix of evergreens and deciduous means you will have privacy all year round.
3. Fence panels
The most obvious is perhaps the wooden slatted fence panels. There are numerous styles which can be stained to suit your garden, and trees, shrubs and plants can be planted in front of the fence for extra privacy. Using the fence to grow climbers up or cordon fruit is also a valuable way to use the space to grow lots of plants. Trellis can also be added for even more height. Please kindly note Lakeside is not a stockist of fence panels.
4. Shrubs and perennials
You can layer planting if you'd prefer to fill your borders with feature shrubs and pretty perennials. Plant the taller shrubs at the back of the border and perennials in front, so the rear planting creates a privacy layer and habitats for wildlife.
5. Container bamboo
For smaller gardens or areas, why not plants Bamboo in large containers and place them around your boundary or where you want more privacy? Bamboo grows fast and tall, looks attractive, and if it is container bound, it shouldn't spread!
Please ask our Plant team for advice on planting options to create privacy in your garden.