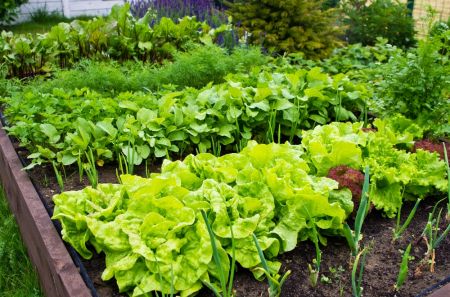 Growing your own food can be thrilling and rewarding, but there's no denying it can also be filled with struggles and frustration. Every gardener makes mistakes, but the important thing is to learn from them and carry on gardening. Here are some tips and advice to help you get the best from your vegetable plot.
1. Sowing too early or too late
We all get impatient when it feels winter's been going on forever, and we want to see things start growing again. But seedlings sown too soon in the year can struggle because the conditions aren't suitable for them yet. Follow the sowing dates on your seed packets, and you'll have much more vital, healthier plants in the end.
There's so much to do in the spring. It's hard to get everything done on time. Plants are relatively forgiving and in many cases, it doesn't matter if you sow slightly too late, but plants like chilli peppers and tomatoes need a long growing season, and if you sow them too late, you won't get as good a harvest. So get the important plants sown first, then catch up on all the less critical jobs afterwards.
A good tip is to keep a seed sewing diary and write down successes and failures and when you sowed them.
2. Planting in the wrong conditions
If you want your plants to thrive rather than survive, check what conditions they need and make sure they have the right food and compost. We would recommend a good quality seed compost.
3. Plant what you like to eat
There's no point in growing vast quantities of vegetables if you won't enjoy eating them. Plan your garden around the things you want to eat, not simply the plants that are easy to grow, so you're not left trying to dispose of a mountain of unwanted veg. For example, try planting just a few seed potatoes instead of a big net full.
4. Planting too many different things
It's easy to get carried away when you first plant a vegetable plot, but the reality is that growing vegetables can be tricky. Use your seed diary as a reference and the team at Lakeside for advice and information on how to get the best harvest from what you've sown.
5. Forgetting to weed
Weeding is one of the most critical and never-ending tasks in a vegetable garden. Weeds compete with your vegetables for valuable nutrients and water, and they can also harbour pests and diseases. Get yourself a Dutch hoe and a hand fork, and weed your vegetable plot regularly.
Whether you're new to vegetable gardening or an old hand, you'll find all the tools, seeds, plants and equipment you need here at Lakeside. Visit us today and get ready for next season's gardening!