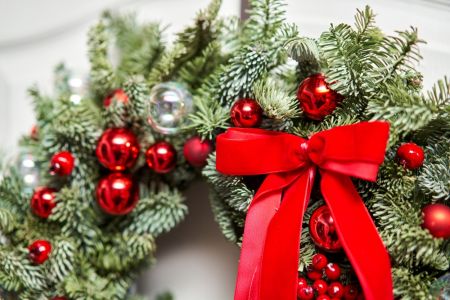 When festive wreaths start appearing on doors, you know Christmas is just around the corner. Whether you prefer a traditional wreath or something more unusual, there's no shortage of ways to decorate your own wreath. We've put together some of our favourite ideas below.
Making a wreath: what you'll need
To make a wreath, you first need a wreath base. You can buy wireframes or plain polystyrene bases, as well as bases ready-wrapped with artificial foliage.
You will also need glue, florist wire and secateurs, plus the decorations of your choice.
How to wrap a wreath base
If you're using fresh evergreen foliage to wrap your base, cut the foliage into lengths to suit the base – you may need to experiment a bit, but around 15-20cm (6-8in) usually works. Make the foliage into small bundles, and use the florist wire to attach each bundle to the wreath so that it lies flat, covering the base. Work your way around the base, overlapping the bundles until the base is completely covered.
You can also wrap your base with string, material, coloured paper or anything else that inspires you.
Ideas for decorating wreaths
For a simple but very effective wreath, use a single type of evergreen foliage to cover your base, e.g. yew, and decorate it with a large red ribbon bow.

Dust pine-cones with fake snow or spray them silver or gold, and nestle them in amongst evergreen foliage, using florist's wire to tie them to the base.

Wrap a base in wool and cover it with fluffy pompoms for a fabulously tactile wreath.

For a spectacular look, use a polystyrene base and smother it with gleaming round Christmas baubles. Glue the baubles on, starting from the inside of the base and working out, using a mix of different-sized and coloured baubles.

Make a snowball wreath with Styrofoam balls in a range of sizes glued to a polystyrene base. For added sparkle, spray lightly with an aerosol adhesive and sprinkle with glitter.

You can't have too much of a good thing. Make a tiered wreath by linking two or three wreaths together in a chain using patterned ribbon or material and hang it on the wall or drape it the full length of your door.

Make a dried wreath tying bundles of twigs together for a base, then decorate with pine cones and dried flowers. Spray it snowy white or sparkling silver for frosty appeal.

Celebrate family and friends with a photo wreath. Wrap a polystyrene base in plain or coloured paper, then cover it with your favourite photos to make a memorable display.

Break with tradition and make a square wreath. Tie bundles of twigs to make a square frame, then decorate with ribbons at the corners and wrap it with fairy lights or tinsel.
We have a fantastic range of wreaths and decorations in our centre. Let us help you brighten up your home this festive season.