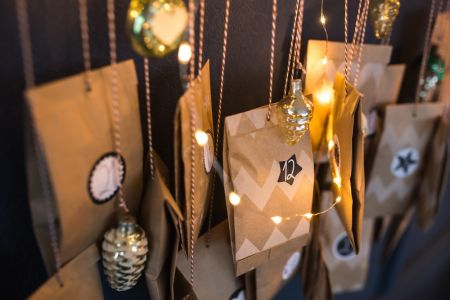 As Christmas is approaching, it is time to start decorating, present buying and card writing. Close the curtains, relax on the sofa and write your list for Santa! Let the festivities begin with these top 7 Christmas items that can't be missed.
1. A Christmas Tree
Of course, it seems obvious, but what would Christmas be without a tree!? With so many to choose from, the perfect one is waiting for you. From trees with built-in lights to the traditional pick your own, your home can be the perfect place for Christmas as soon as you place your tree and pop the baubles on. Get yourself a stunning Christmas tree to start the real Christmas feeling. We sell:
real Christmas trees
artificial Christmas trees
2. A Christmas Spice Candle
Fill your home with the fragrance of Christmas with a candle full of spices. Allspice, cinnamon, cloves can all mix to give that wintery, warm feeling of December. If it's cold outside, a candle inside can be comforting and relaxing at Christmas time.
3. Santas Sack
Where will all the presents go without a sack hanging up on the fireplace? Make sure Father Christmas knows where to put your gifts with a sack hanging up on your fireplace. Did you know it is fun to personalise your own sack? Kids love to do some craftwork to make sure Santa finds their sack on the fireplace. In our garden centre, we sell lovely decorations and crafting to get started.
4. Advent calendar
Don't miss a day in the run-up to Christmas, by opening up a little window each morning to a surprise treat and a reminder that it's almost Christmas. Choose from advent calendars full of chocolate or fun toys. There are even beauty calendars and ones filled with beer. Need to say more?
5. Poinsettia (Christmas star)
After a Christmas tree, it has to be the Poinsettia that steals the show. The stunning red bracts are a classic sign; it is the festive month. Now there are various colours available from pink to cream and even variegated. There is even a new variety named Princettia which can be planted outside tolerating lower temperatures. It probably won't last a snowy Christmas time, but it will look great in a pot until then.
6. A cosy throw
Is there anything more comfortable than putting on your PJ's and sitting by the fire wrapped in a warm and cosy throw? With the festive light on, a fun Christmas movie and a mug filled with hot chocolate and marshmallows on top, you'll feel relaxed and completely ready for the festive fun.
7. The tree topper
When your tree is up and decorated, the moment to top them all is placing the star or fairy on top of the tree. After that moment, it feels like Christmas has really begun! Why not go big, with a sparkly star or even try something different like a belt bird or just a huge big bauble.