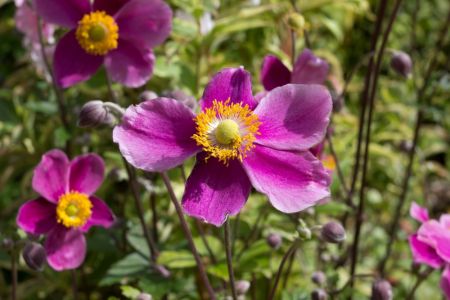 When the Japanese anemones bloom, you know autumn is just around the corner. These tall, elegant perennials flower in late summer, just as other plants are starting to fade. With their sculpted pink or white flowers on long slender stems, they're a dramatic presence in the border, keeping summer going just that little bit longer.
Despite the name, Japanese anemones are in fact native to China. There are several different species, but the ones you'll come across in most gardens are varieties of either Anemone hupehensis, or Anemone x hybrida, a hybrid form that flowers slightly later.
Where to plant Japanese anemones
Japanese anemones do best in partial shade and a humus-rich, moist, well-drained soil. They can also be grown in full sun, as long as the soil isn't allowed to dry out. They will cope with full shade, but won't flower as well, and may get leggy and flop over. With their tall flower stems, they're ideal for adding height at the back of a border, and the large maple-shaped leaves make a good foil for other plants earlier in the year.
How to care for Japanese anemones
It can take Japanese anemones a year or two to settle in after planting, but once they get going, they are very easy to care for. A word of caution – if they are happy with their conditions, they will spread, sending out underground stems called rhizomes that will put out roots and grow into new plants. To keep them under control, remove unwanted new shoots in spring as they appear.
When their flowers fade, Japanese anemones develop small round fluffy seedheads, which are a popular food source for little birds like goldfinches. Once the birds have had their fill and the flower stems start to look untidy, cut them back to ground level. In spring, remove the dead leaves. New leaves appear early in the year, giving the plants long-lasting presence in the garden.
Anemones are usually not much troubled by garden pests and diseases, and they're less attractive to rabbits and deer than many other perennials, so they're a right choice for gardens where this is a problem. Butterflies love the flowers.
Which Japanese anemone to plant?
Over the years, plant breeders have produced many beautiful Japanese anemone varieties. Here are a few to look out for:
Anemone x hybrida 'Honorine Jobert' AGM – 1.2m (4ft) tall, with pure white flowers,

Anemone hupehensis 'Praecox' – 90cm (3ft) tall, with soft pink flowers. Early-flowering.

Anemone hupehensis var.japonica 'Splendens' – a compact variety, 80cm (32in) tall with pink flowers. Good towards the front of a border or in large pots.

Anemone x hybrida 'Königin Charlotte' AGM – very tall, at 1.5m (5ft) high, with large pink flowers.

Anemone 'Wild Swan' – an unusual variety, 45cm (18in) tall, with a blue-grey streak on the undersides of the white petals. It flowers intermittently from late spring to late autumn.
For gorgeous late summer colours in your garden, visit us to see our great range of Japanese anemones and other late-flowering perennials.