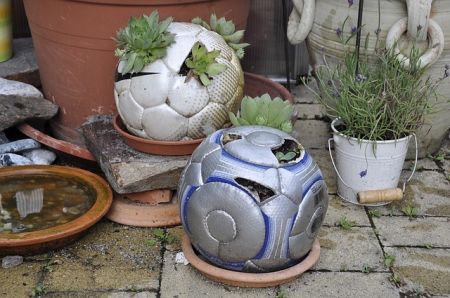 These sustainable upcycling garden activities will help to give you some inspiration for reusing and recycling some of your household or garden items that you might otherwise throw away. It can be really satisfying to up-cycle old goods and can also help to add your own personality into the garden. As well as reducing waste, you can personalise items and make some extraordinary new things for your garden. Upcycling can be a lovely activity to do on your own or with kids.
Use pallets for sustainable upcycling garden activities
If you've had a delivery and it has arrived on a pallet, don't throw it away. Pallets are invaluable in the garden for upcycling. You could paint it, line it and plant herbs or strawberries in, you could use it to make a compost bin or even attach it to a wall and have your very own green wall pallet planter full of greens.
Sustainable upcycling garden activities include a chest of drawers
It is incredible what can be done with an old chest of drawers, so before you head to the tip just picture your drawers in your garden or on the patio or even at the allotment full of plants! Paint the drawers or leave as they are, open all drawers and drill some drainage holes in the line and plant up! Choose any plants, but they do look fantastic with a mix of succulents and cacti.
Tyres make great sustainable upcycling garden activities
There is no need to dispose of tyres when they make the perfect funky garden planters. Paint the tyre and hang from a tree or attach to a wall and plant inside. Pretty Petunias look great and when they have finished flowering for the summer, switch them for some winter Cyclamen for a seasonal look. If you have lots of tyres, why not line your garden path with them and plant them up.
Turn old footballs into containers as a sustainable upcycling garden activity
Did you know that old footballs make a great flower pot for garden plants? Cut out some parts of the football and fill the ball with soil and organic matter. Succulents, both as cacti are great for this type of planters. You can even choose to paint your football in a colour you like.
Use old cutlery for your sustainable upcycling garden activities
We all forget what we have planted where sometimes. There are many label options available, but why not make your own using your old cutlery? They are hard-wearing, it is better than throwing them away and a sustainable approach to plant labelling. Just grab a hand stamp and stamp the names of your plants on the metal handles. Easy!
Crockery can be used to make great sustainable upcycling garden activities
Before you give your old teapot to the charity shop, think about reusing it in the garden in a fun way. They can be used as birds nests or planted up and put on the garden table for a grand centrepiece. Ready to plant your upcycled projects?
Visit us in store for the perfect plants to finish it off.