Bulbs in containers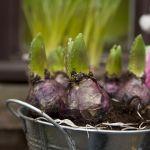 It's almost as if bulbs were invented for containers: they grow happily despite the restricted environment, look fabulous and come back year after year.
Make the most of your container bulbs with our top display tips.
Masses of tulips: at their most striking planted en masse in a head-turning block of colour, tulips look wonderful as a single variety packed into a large container. Try scarlet 'Apeldoorn' or sumptuous 'Abu Hassan' for real wow factor.
Layer planting: planting bulbs in three layers so each flowers in succession gives a really long display. Plant late-flowering pale pink 'Baywatch' tulips on the bottom, with dwarf narcissus 'Tete a Tete' and then early-flowering Iris reticulata on top for flowers from late winter till May.
Trying things out: when you're considering growing a new type of bulb but aren't sure how it'll perform, get to know it first by popping it in a container for its first year. You can then watch it up close to see how it does: if you're smitten, plant into your borders after flowering.
Plunge planting: for temporary splashes of colour, keep showy bulbs like tulips, lilies or agapanthus in large containers. When they're on the point of flowering, plunge pot and all into the ground in the main garden for instant displays.
Specimen bulbs: very lovely, delicate bulbs like bulbocodium daffodils or tiny reticulata irises disappear in the rough and tumble of the open garden, so pot them up and display them on a table to appreciate them to the full.
Indoor forcing: hyacinths and fragrant paperwhite daffodils can be brought indoors for forcing, filling your house with colour and scent through the depths of winter. You can buy ready-forced bulbs from our garden centre from late autumn.
Please ask a member of the Lakeside team for more information and advice about growing bulbs in containers.