Laying a path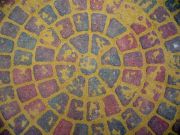 A handsome path is a striking finishing touch to your garden. It plays an active role in your design, leading a visitor through from one feature to the next and inviting you to explore. It's also practical, giving you access to borders for weeding and planting. Match the materials you use with others in the garden and you'll pull your design together so it's pleasing to look at and delightful to use.
Paths are one of the easiest garden landscaping projects, and you'll find everything you need in our garden centre from edging to stone slabs, setts and paviours. It's a project for a free weekend – here's how you do it:
Decide what kind of path you want to build, whether it's a simple barkchip path for a veg patch or a smarter one made of brick paviours. Other options include stone flags, gravel or cobbles.

Mark out your path and dig out the soil to a depth of 10cm (gravel or bark) to 15cm (paviours or stone flags). Make sure the base is level and even along its length.

Install your edging: good edging materials include wooden boarding, brick paviours laid on edge, or granite setts. Fix wood in place with pegs, or lay stone edgings into a bed of mortar and allow to set.

Put in a sub-base 75mm thick to act as a foundation. Scalpings, a by-product of quarrying, are ideal. Compact the base thoroughly, using a plate compactor or hand tamper, till it's level and even.

For a gravel path, simply top with 50mm of peashingle – job done!

For paved paths, add a layer of grit sand 40mm thick and compact into a smooth base. You can add cement, one part cement to 10 parts sand, for a more solid base.

Lay paving on top, checking and re-checking that you've got it level. Then brush a dry mix of one part cement to four parts sand into the joins: the first shower of rain will make it set hard.
Please ask a member of the team for more information and advice about laying paths.