Greenhouse grow bags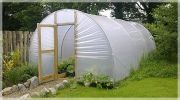 Grow bags are incredibly useful throughout the garden: just pop them anywhere you want to grow plants but don't have soil, like the edge of a patio or outside the back door. They give you an instant growing space for sweet peas, annual climbers like morning glory, or productive herbs, vegetables or even fruit.
We stock grow bags as well as useful accessories like frames that clip over them to support your plants as they grow and covers to help them blend more easily into the garden. Here are some top tips to make sure you get the best from your grow bags throughout the year.
Fluff up before planting: When you get your grow bags home, plump them up like a pillow before you use them. This breaks up the compost inside where it's become compacted in the stack, letting in air and making it easier for your plants' roots to penetrate.

Stack several together: If you're growing big plants like tomatoes, consider stacking two or even three grow bags on top of each other to give your plants a better root run. Cut out a long rectangle from the first grow bag, then put another on the top, cutting squares from the underside to let the roots through.

Feed regularly: Plants in grow bags rely on you for feed and water, so make sure your plants never go short. A weekly general-purpose liquid seaweed feed keeps most plants going; switch to high-phosphate tomato feed once they start flowering. You'll find both in our garden centre.

Use a second time for salads: Once your peppers and cucumbers have finished, don't throw out your grow bag. Top up with compost if necessary (you may need to cut a longer rectangle from the top) and re-sow with baby-leaf salads to see you through autumn.

Recycle the compost: When you've finally finished with your grow bag, empty the spent compost on your compost heap or just straight onto your flower beds as a soil-improving mulch.
Please ask a member of the team for more information and advice about growing in grow bags.