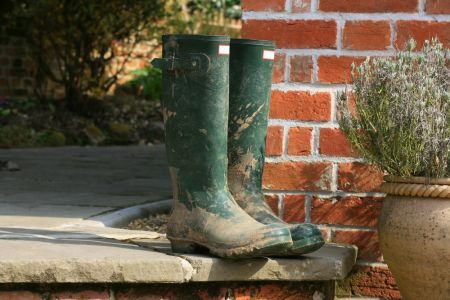 Your garden essentials for November will ensure you have the right plants and tools to get you and your garden through the winter months with as much pleasure as possible. It's a cold month, so time spent outside in the garden can be less than usual, but there is always work to be done outside, so making sure you have everything you need to get on with the tasks you have to do will make life much easier. Here are the garden essentials we recommend to help you throughout November.
Garden spade and fork
Tulip bulbs
Warm clothing
Waterproof boots
Secateurs
Garden essentials for November include garden spade and fork
This time of year is excellent for applying mulch to your garden beds, giving it enough time to allow the nutrients to make it down into the soil ready for planting the following spring. You will need a spade to move the mulch and the fork to dig it in, perhaps even a rake to rake it over as well. Have all of your tools to hand and in good condition for the job to be much easier.
Tulip bulbs are garden essentials for November
Most spring bulbs will be planted by now, but get them in the ground even if you still have some. Tulips, however, can still be planted well into November as long as the soil isn't waterlogged or frozen. Find some pretty coloured bulbs perfect for your garden style and get a bulb planter that will make planted them accessible.
Garden essentials for November has to be warm clothing
As the weather gets much cooler, it's time to pull out your winter coat and hat so nothing can stop you from gardening, no matter what the weather. Check there are no holes or tears and if there is, treat yourself to some new gardening winter warming clothes. Don't forget the warm gloves!
Waterproof boots are part of garden essentials for November
If you are planning on gardening into the winter, you will undoubtedly need some waterproof boots. There is nothing worse than cold, wet socks! Comfy boots will ensure you can get on with gardening, splash about and get muddy but still keep your feet warm and dry.
Gardening essentials for November mean secateurs
There will be plants and shrubs to prune and tidy up, so clean, sharp secateurs are most definitely essential for your garden tool kit. You might even need loppers or long-handled pruners to reach the hard to get branches. Give your garden a tidy up and remove any red or damaged plant material to keep everything healthy and strong over the winter months.
Stock up on everything you need for months ahead with our choice of products in store.