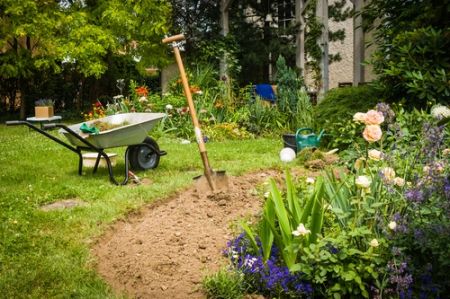 Designing your own garden can be very rewarding, watching your ideas gradually coming to life through the year. Whether you're creating a brand new garden, redesigning your existing layout or simply re-shaping a few beds, these tips will help you make your dream garden a reality.
Tips on how to design a new garden
First, measure your existing garden and draw it on paper. Show the position of the house, boundary fences or walls, and any shrubs, trees etc., that you want to keep.

Work out which way is north and mark it on your plan. When planning your planting, it's a great help to know whether beds are south-facing and sunny or north-facing and shaded.

Spend some time noticing how the light falls in your garden. Remember that this will change through the year, so don't take midsummer as the baseline for the light levels in your garden.

Think about how you want to use the garden. Do you want a space for entertainment, for relaxation, for growing your own food? Somewhere to sit and have a quiet cup of coffee? Mark zones on your plan to show where you want seating, children's play areas, and less glamorous things like sheds and compost heaps. This will show you where you might need a path to connect areas or some screening plants to hide your recycling bins.

Your lawn forms a big part of your garden, so give it a strong, definite shape. Whether you prefer curves or straight lines is up to you. This is where your plan comes into play – try different shapes and see which you like best.

When designing paths, remember that there always needs to be a final destination, a reason to draw people down the path. If you have a path that comes to a dead end, add a focal point such as a bench or a beautiful pot. If you have a square plot, laying out your garden at a 45° angle to the house can make the garden feel larger, as the diagonal lines of paths and beds lead your eye through the space instead of straight down to the back fence.

To design your garden's planting, start with structural plants such as trees, shrubs and evergreen plants, then fill in the gaps between them with softer flowering perennials. Remember to include plants for winter colour and structure, such as clipped evergreen hedges, evergreen grasses and plants with brightly coloured stems like dogwoods, silver birches and Japanese maples.

Trees are a vital part of any garden. They add height, privacy, and shade for hot sunny days and food and shelter for birds and other garden wildlife. For smaller gardens, consider tall and narrow Amelanchier lamarckii 'Obelisk', evergreen Arbutus unedo 'Compacta' (the strawberry tree), or the Japanese apricot Prunus mume 'Beni-chidori' with its beautiful pink spring flowers.
If you need advice or inspiration for your garden, why not visit our centre? We have a fantastic range of plants and garden essentials, and our staff are always happy to help!